Details
---
Shares are transferred (e.g. sold) from one member to another or a new member.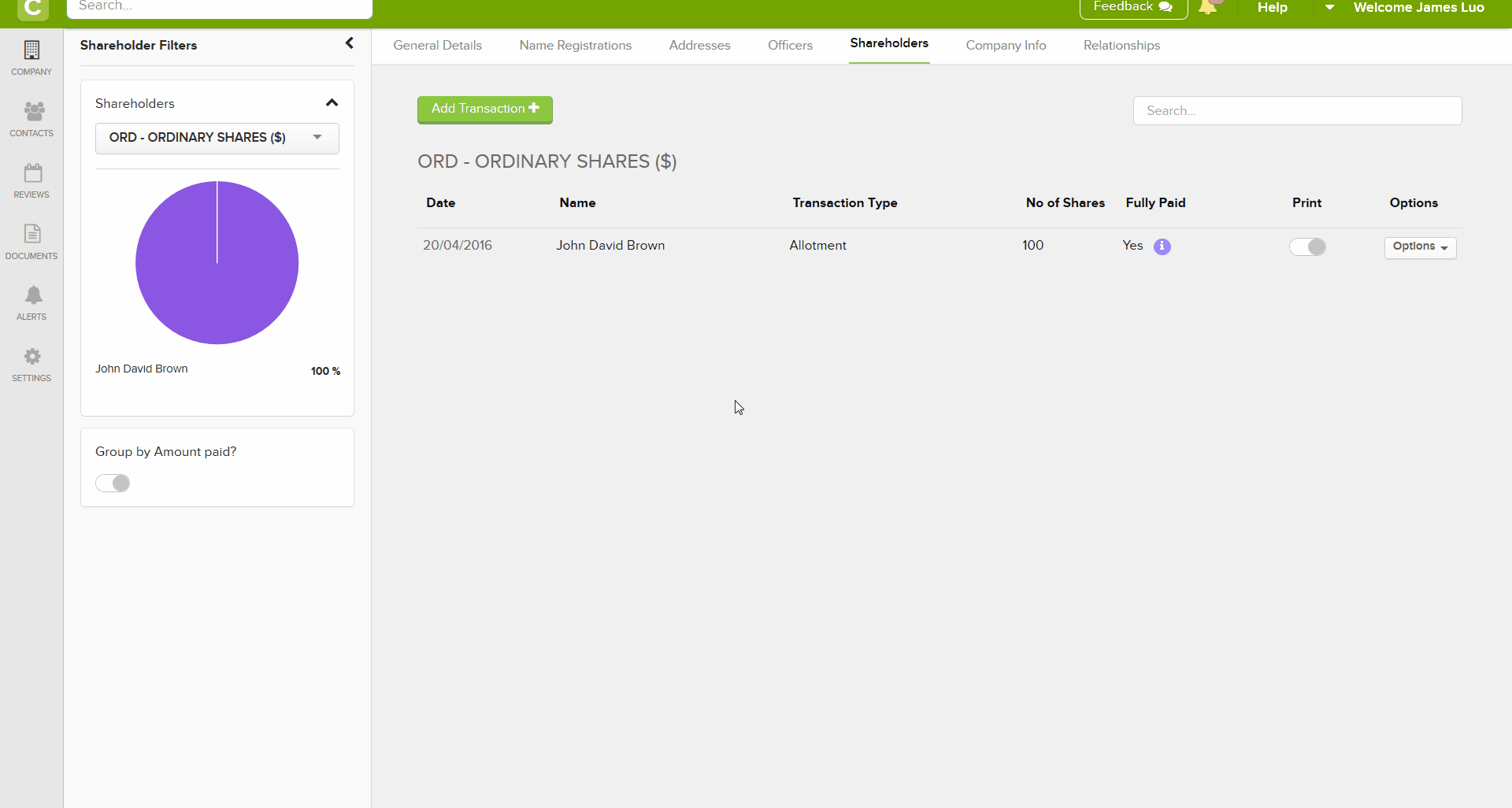 Navigation
---
| | |
| --- | --- |
| From the Main Toolbar, go to Company. | |
| Select the Company from the list. | |
| Select Shareholders | |
Click

Select Share Transfers
Instructions
---
CAS 360 will display the Share Transfers screen.
Field
Explanation

Transaction Date

Input the date of the transfer
Transfer From

In the Transfer From Field, CAS 360 will display a list of the company's current shareholders

Beneficial Owner
CAS 360 will automatically prefill this field if there is a beneficial owner.

Transfer To

Begin typing the new shareholder's name. CAS 360 will begin searching the Global Contact screen for the person. If the Contact has not been previously added to the Global Contact screen, will appear.

Click to add a new contact.

Beneficial Owner
Click
to add a beneficial owner from the contact screen if one applies.

Share Type

In the Share type field, CAS 360 will display a list of the share types the shareholder holds

Number Of Shares

Input the Shares transferred
Consideration Paid Per Share
Input the amount paid for the transfer of the shares

Number Of Shares

Input the Shares allotted

Meeting Status

Select the meeting status of the member which will appear on the Resolutions.
Notes
Notes can be added in the box displayed. Notes will not feature on the register of members.
Click

Forms Prepared
---
CAS 360 will display the Document Production screen and automatically select the documents required:
Cover Letter (optional)
Registers – Members
Directors Meeting Minute or Resolution
Share Certificates
Notice of EGM (optional)
Share Transfer Form
Notices of Beneficial Ownership (only if a Beneficial owner was selected)
Declaration of Trust (only if a Beneficial owner was selected)
Members Minutes or Resolution (optional)
Members Consent (optional)